During the month of May 16th to 24 th, I was fortunate to be in Tainan for business. In between business meetings, I had a few hours during the week that allowed me the opportunity to visit some old parts of Tainan city to take number of shots with the 50 Nocti f/1.0.
One my favourite portrait shots with the 50 Nocti f/1.0, was this shot in an old under cover market place closing down in the evening in the old part of Tainan. The lighting was streaming in from the side, and this old man had a great presence and was very comfortable in having his shot taken, with the wonderful smile still in his eyes!
Another 50 Nocti shot, captured earlier in the week, was of this elegant lady, just sitting outside a Taoist Temple. Again I really enjoyed her poise and presence with the backdrop of the temple's walls.
Later on in the evening, I caught the glimpse of a very old lady, whose energy and smile were amazing. This shot was captured with her smiling, even with her eyes almost closed. Again with the 50 Nocti @ f/1.0
Tainan is a very interesting city. The city is very clean, many new buildings and yet it has maintained some of the older areas which really adds to its charm.
Another shot taken at a shop front of a traditional style of trading business. This shot was with the 50 Nocti @ f/1.0, to isolate the gentleman from a rather messy back drop.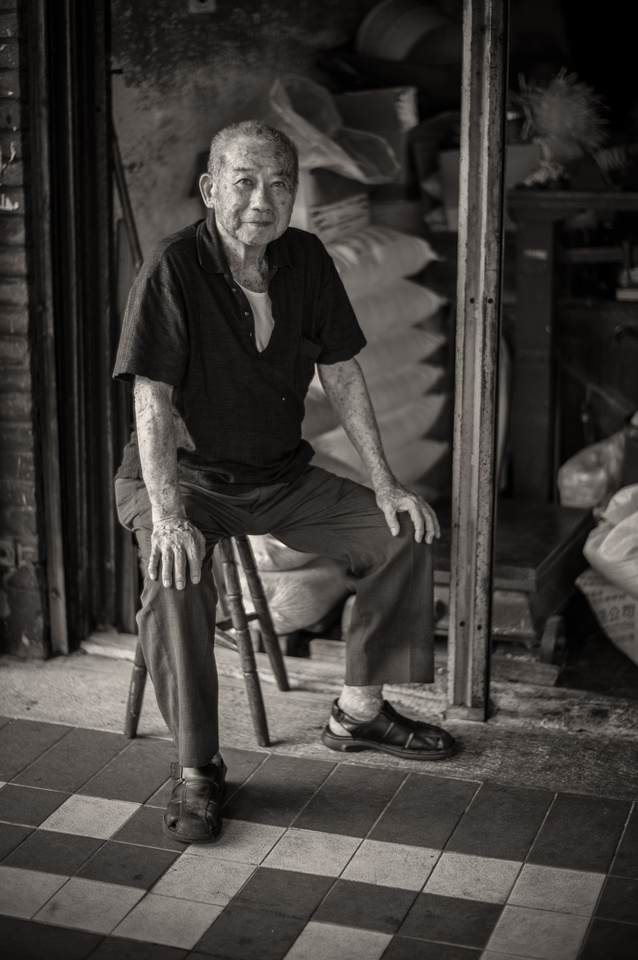 Within the store was another gentleman at the counter, in very low light, captured with the 50 Nocti @ f/1.0
Walking along another section of Tainan, there were very small streets, lane ways, with many buildings in the traditional style of Taiwanese architecture. Many of the buildings were very old, and obviously used original building methods and materials. I found it fascinating that in a very clean and modern city, there were old parts that added to the charm and history of Tainan. Shots here were with the 24 Lux Asph, the last with the 50 Nocti f/1.0.